Let's have a bit of fun.
The game is called Cities.
We will travel a bit in time in this thread. Let's see how many cities we can have.
Share the best photo you've taken in a city you've liked so much. You also have to say, why the city must to be visited, and you must convice the next poster to visit the city.
Rules:
The Photo must be have taken with a Camera. No phone photograpphy here.
Only 1 photo per post.
Share only 1 city per post.
You must write you have chosen this photo and why you have visited the city.
I will start:
My city is
Bath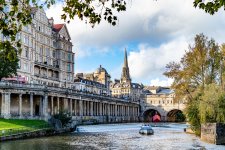 Why?
I visited the city because I was off on the day, and someone has recommended me to visit the city because it's an old Roman city with amazing and beautiful architecture. And yes, I also love travelling, exploring the unseen.
Why you should visit it?
If you love old Roman towns, great architecture and want to see something unique, I would say Bath is the city to go. But be prepared to spend a bit of money, as the city isn't the cheapest one. You will enjoy the old buildings, the busy high streets, and the old fashion shops. If you like some shopping, then you won't be disappointed. There is a car park in central of the town, not the cheapest one, but affordable. I would personally say, the city it's worth to be visited. If you do visit the city, you should also visit the Roman Baths, I didn't have a change to go, but that's something I would be keen to do on my next trip.